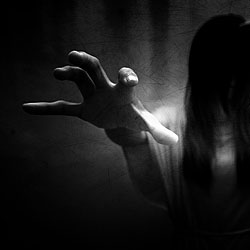 So I am sat here writing this and wondering how I ended up here. I mean I am a serial closet writer and as all closet writers know there is one rule – never take the stories out of the closet, never let anyone read them. Yet here I am with a contract to sign and an editor to work with because for once I let a story out of the closet and someone liked it enough for it to win a place in a book.
I don't have a writing method, I tend to get bored and wander away halfway through trying to understand one. Stories just sort of tell themselves in my head. As I walk to the office, as I sit on the tram I am constantly letting the story tell itself to me and sorting out the words as I go. It is a bit like having a literary multiple personality.
I entered this competition purely because I was challenged to last summer. I didn't believe that I had a horror story in me but maybe I was wrong there. I entered because I wanted to be part of the community. I wanted to genuinely know what people thought about my stories.
Putting up that first story my heart was in my mouth and getting the first feedback . . . wow it was like a drug. Suddenly I had my peers giving me honest and supportive feedback and I was able to share mine with them. Create 50 has a uniquely nurturing vibe, you genuinely feel like the majority are here to support and grow together.
I don't think I ever thought I could be in the winning book, I will admit that now the surprise has died down it has been replaced with terror about what the next few months hold in store, but it is a little less scary knowing the Create family is stood behind me cheering me on.
So what would I say to the other closet writers out there who hover around the edges of these kind of things
Keep writing and write the way you want to – don't get bogged down in thinking there is a wrong way and a right way.
Write from the heart and write stories which connect to you. If you are engaged then the reader will be to.
Don't be scared to try out new things – the number of people who have exclaimed "but I thought you were such a nice girl where did that come from" has really surprised me - you don't need to be a psycho to write about one.
But mostly just let the words out of the closet, take a deep breath and open that door. . . go on . . . you never know what is lurking inside!
EJ Hughes
My Profile HERE.