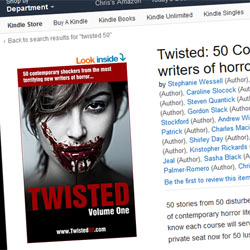 Wooooo! Finally, the Amazon Kindle release of Twisted50 is online. The softback will follow very soon.

Here's the link https://www.amazon.co.uk/dp/B01M66RW8U/

What can you do now?

Numbers and reviews are now VERY important. We need a spike in sales and downloads and we need as many good reviews as possible.

These two metrics are essential for the success of Twisted 50. And of course, if you help you will feel all warm and fuzzy as well as truly terrified by the stories you read!
So here's what you can do…
1. Buy it and leave a review. We hope you love it as much as we do.
2. Post about it on Social Media EVERYWHERE! Always offer the link to it also. Personally encourage people to buy it and review it.
3. If you have any friends who LOVE horror, tell them about it and Create50 and ask them to read and review it.

Once you have left a review on Amazon, send it to us and let us know that you have done so and we will amplify it for you.

So here is the link again.

https://www.amazon.co.uk/dp/B01M66RW8U/

Chris Jones
www.Twisted50.com