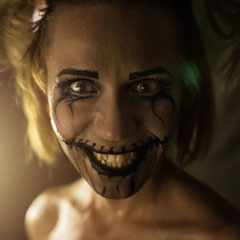 Can you help launch Twisted's Evil Little Sister by joining our Thunderclap? It takes under 60 seconds and will make a HUGE difference. You can do it here…
HERE.
What does this mean? Thunderclap will post to your social media channels like Facebook or Twitter on Monday at midday and cause Twisted's Evil Little Sister to start trending.
This will make a MASSIVE difference to our very first day.
 If you want to buy the book too, so much the better! We aim to topple Stephen King. Again.
In real terms, the book may already be on Amazon over the weekend. The way it works is, we submit it and Amazon upload it as part of their process. So if it does appear on Amazon earlier, don't shout about it until Monday at midday.
If you follow the link through, you can also watch the A-MAZING trailer for Evil Little Sister, but again, please don't share this link yet – we can do that next week.
OK… Take action. Join the Thunderclap here…
HERE.
Thank you from EVERYONE involved in Twisted50. We are shaking up the industry and creating amazing new books in the process.
Chris Jones
www.Twisted50.com
PS – Pre order your paperback of Twisted50 HERE.