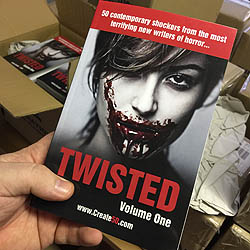 We have around 150 copies left (the other 150 were pre-sold) and they will make ideal Christmas gifts for people you love and want to seriously disturb (evil laughter). Get yours HERE.
If you pre-ordered your copies(s), THANK YOU – they will start going out tomorrow.
And if you wan to grab your very own first edition paperback now, click here to buy from the Twisted50 store HERE.
Watch the video below...