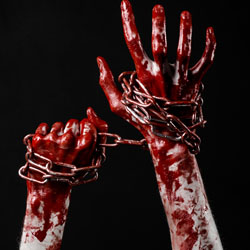 Winning Twisted50 was my first writing success and so the opportunity to listen to the audio interpretation would be another new experience.
Inevitably I have a clear image in my head of the characters in my story; particularly "Miss Smith" who is the main protagonist. But would she be as I imagine her? Would the whole tone of the audio interpretation be in line with my thoughts? If it was different, would I be disappointed? But then would that different interpretation necessarily be a bad thing?
So, with fingers crossed, I listened to the extract.
The intro music was great; dark and dramatic.  Then the voice began; I soon realised that the interpretation was absolutely spot on. "Miss Smith" was the relaxed, confident, arrogant, cheeky and seductive character in my mind.  I must express my thanks to narrator Claire Wyatt who has grasped the nature of my character so well. Also to Helen Lloyd for producing the audio book.  My work in the hands of such skilled professionals!

So what else have I experienced during the audio read?

Well certainly a feeling of pride when listening to my story being read so well (come on now; Pride is a Deadly Sin which is appropriate for Twisted50!)

But more importantly, the power that an audio read has to test the quality of your writing. Listening to the words being read is precision surgery on your narrative looking for the slightest taint. I will practice this more with my future writing.

In more general terms, l will take more interest in audio books; I have listened to very few in the past. Shutting your eyes, relaxing and listening can be more focused and powerful than conventional reading.

I have ordered the Twisted50 Vol. 1 audio book and look forward to listening to it after lights out and scaring the shit out of myself.

Thank you Claire Wyatt, Helen Lloyd and the whole Create50 team for producing this.

And Best Wishes to all Create50 writers.

Gordon Slack