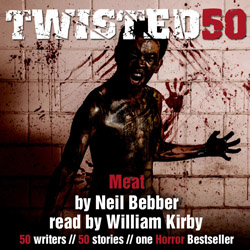 There's something surreal about pulling off the M5 into a faceless service
station car park, on a crisp, cloudless day, to listen to the audio version
of your short story for the first time.
Even stranger, as innocent, post-Christmas families mill aimlessly past my car, to hear an actor brilliantly capture the understated relish in the supermarket butcher's voice, as he reveals his fascination with meat and dismembering.
When I'm not writing twisted tales, I'm a playwright. And when I initially
wrote MEAT, it was as a short play.But I loved the idea of adapting it as a short story; a confessional monologue to be happened upon and savoured alone; a blood-curdling cry for attention to thrill-seeking voyeurs.
And now, hearing it read, it's come full circle. The butcher has a voice. A life. He's talking to you. And as long as you remember him, and what he did, it makes it all worthwhile…

Thanks,

Neil.