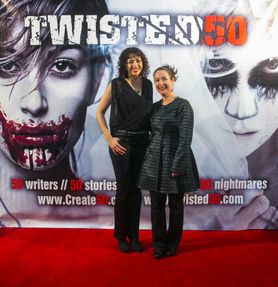 So, I had a creepy night last night.
I dragged my friend along with me to the Twisted 50 book launch party. We were met by a young lady at the entrance who warned us that due to a blown fuse, the corridor was dark and that we would need to use our phones to light the way.
Unsuspectingly we obliged, and with our phones in hand into the long dark corridor we wandered. Wait, why is that man leaning with his face against the wall? I asked myself. He turned round to face us as if in answer to the question I had in my mind. He growled at us. I nearly jumped out of my skin. Realising this encounter was in theme with the book, we laughed our way past him only to be faced by a silhouette of someone plodding towards us. The silhouette was indeed a zombie who now was pointing at us as if marking us as his next victim. We dodged the pointing zombie as well as other emerging creepy characters and finally made it into a lit corridor.
No creepiness in this part of the old cinema museum, except for the display of old and interesting film relics, lining our way as we climbed the stairs to the main event. The Cinema Museum is definitely worth a visit on another day. As stated on their website in the introduction - "The cinema museum houses a collection of artefacts, memorabilia and equipment that preserves the history and grandeur of cinema from the 1890s to the present day" the introduction also mentions "...the workhouse where Charlie Chaplin went as a child".
Upstairs, once past the red carpet and photo opportunity, we made through to the main part of the hall. We were accosted by a paranoid man who said he was hearing strange noises and asked if we could hear them too. He also wanted to know if it was dark outside and seemed to be fearful of it. For a moment I wondered about this weird encounter only to realise he was a character drawing me into the story 'Witches', one of the Twisted 50 stories.
The Twisted 50 book launch party was most certainly an interesting event. It involved mingling with the authors of both Twisted 50 and Twisted's Evil Little Sister, as well as the narrators from the audiobook and actors. Often your conversations would be interrupted by characters from the various Twisted 50 stories seducing you into their story world. It was also an amusing experience where one moment you're conversing with a normal looking person, then wondering about the weird conversation that was emerging, only to realise the person you were speaking to was indeed an actor in character from one of the stories.
Meanwhile, gory and creepy looking characters lurked about, or stood silently on the side surveying the socialising spectacle as if searching for their next victim. One such character was a bride holding an axe. She is featured on the cover of Twisted's Evil Little Sister book.
Thanks Chris, Judy and the rest of the #Create50 team for the wonderful and entertaining treat last night! And a massive congratulations to all authors and narrators as well as to those that received awards for the various categories. Well done to the actors for keeping us entertained!
Dana Pierre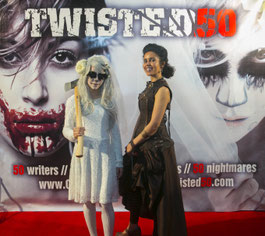 Just back from a wonderful gathering of creative folk at the #Twisted50 audiobook launch. Thanks to the inspiring and thoroughly encouraging Chris Jones for organising this event, and to Cristina, producer of Twisted50, and Elinor, editor.
Milethia Rachel Thomas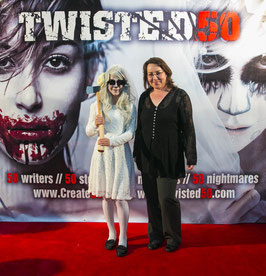 Such a fun evening at the Twisted50 book launch last night. The evening started with being scared and pounced on by zombies and a dude with a head in a bucket, followed by drinks, the brilliant awards ceremony, then a spooky read on my long train journey home. Thanks to the whole LSF/Create50 team for a fab evening
Dorothée Kuepers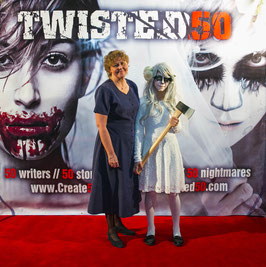 It was an awesome night. Can't wait to do it again. Really glad I made the effort and feel proud to have been a small part of this whole fantastic Create50 creative collaboration. My thanks to everyone involved in setting up the event but also all those who helped me elevate my writing even more. Everyone who took part is indeed a winner, even if their story was not in 'Twisted50 Volume 1' or 'Evil Little Sister'.
Dee Chilton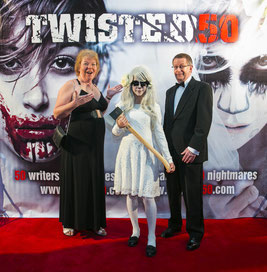 Blood pressure just about returned to normal working parameters after being jumped on and surprised by various creepy creatures. Smashing to see familiar faces Chris, Judy, Elinor, David, Zsofia, Viktoria, Dee, Merlin, Philip & Hayden, Dorothée, Cristina, Milethia, Helen, Bryony and great to meet so many new friends, especially Steve all the way from USA and Graham Vick, narrator of #DeepConviction. A special evening. Congratulations to all award winners. Thank you so much to all concerned.
Kim L Wheeler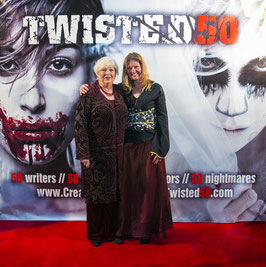 I was so giddy at winning one of the Twisted 50 awards last night that I forgot to get an official photo - doh! I'm not so glam this morning but the award's still in my hand... thanks for a fantastic launch & ceremony, Chris Jones et al. It was wonderful.
Steph Wessell
What a GREAT night!
Chris Jones