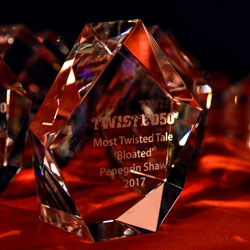 Just over a week ago we held the Twisted50 vol 1 Awards.
The whole thing was so exciting and overwhelming, I plain forgot to post the winners on the site here.
So congratulations to the award winners who are…
Most Twisted Tale, Penegrin Shaw for 'Bloated'
Best Character, The Butcher in 'Meat' by Neil Bebber
Best Death, Liam in 'The Ballard of Liam and Chantal' by Steven Stockford
Most Outstanding and Original Voice, Alex Thompson for 'Do Blastocysts Dream Of Foetal Sheep?'
Best Audiobook Narrator, Susie Riddell for 'Sum Of My Memories'
Best Newcomer Audiobook Narrator, Kat Rose Martin for 'The Beholder'
Best Story (Joint 2nd place)
Marie Gethins for the'The Sugar Loaf and The Red Shoes'
Stephanie Wessell for 'The Beholder'
Susan Bodnar for 'Five Days'
Leo Robertson for 'The Audition Altar'
Best Story, Chris Jeal for 'Shenanigans'
And of course all 50 writers in Twisted50 volume 1 are winners, and they are…
Stephanie Wessell, Troll Dahl, Susan Bodnar, Marie Gethins, Kendall Castor-Perry, KK Rickcord, Caroline Slocock, Karen Sheard, Lucy V Hay, Stephen Deas, Diana Read, Scott Merrow, Steven Quantick, Dylan Keeling, Steve Pool, Jacqui Canham, Nick Twyford, John Ashbrook, Gordon Slack, Richard Craven, Adam Millard, Penegrin Shaw, Geoff Bagwell, Steven Stockford, Andrew Williamson, Alex Thompson, Joshua Saltzman, Rachael Howard, Christopher Patrick, Charles Maciejewski, Hillier Townsend, Bartley Cryan, Jonah Jones, Duncan Eastwood, Shirley Day, Richie Brown, G.P Eynon, Nick Yates, Maggie Innes, EJ Hughes, KJB Rickards, J.M Hewitt,  SV Macdonald, Jessica Brown, Leo Robertson, Chris Jeal, Sasha Black, Thomas Cranham, Neil Bebber and John Read.
Chris Jones
www.Twisted50.com