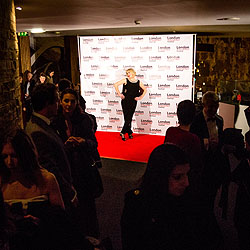 And we are in full swing organising our most spooky event yet! Watch the short prep video below...

Tickets are £15
Venue is the London Film Museum in Elephant and Castle
Dress Code: Fabulous and or gothic
Tickets HERE.
Date: Feb 24th, 7.00pm / Awards at 8.00pm
What can you expect?
An unforgettable and unique night out, meeting loads of other Create50 writers, getting a little (but not too much) spooked, cheering at the awards, photos of you on the red carpet, photos with characters from the books.

So join us and support Create50, Twisted50 and the writers, voice over artists and team behind this truly groundbreaking project.

Chris Jones
www.Twisted50.com

PS – Twisted50 volume 2 is closing soon too, write your story at http://twisted-vol2.create50.com/twisted-vol2