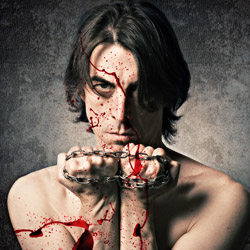 When it comes to books and films, I avoid anything scary.

I 'watched' The Woman in Black with my eyes closed.  I will never watch one of the greatest films ever made, The Exorcist (even writing the words gives me the heebie-jeebies). I won't even venture into the horror section in a bookshop, lest I make eye contact with a scary front cover.

Sci-fi is more my wireless kettle of fish, so why did I choose to write horror? Create50 takes the credit. I began working on a piece for their Singularity50 project.
I feel at home writing about technology and AI; it's what I do for a career, what I read about in my spare time, it's my first choice in film genre. Then I saw Create50's Twisted50 collection… Could I push myself outside my comfort zone? The thought terrified me.
Yet, that's where Create50 allows one to take baby steps. I dared myself to read a few other submissions from other contributors. OK, I thought, maybe I could do this…

The idea behind 'Ingrowing' is based on my own squeamish thoughts, and from the feedback I received, based on others' too. The story was all about pushing myself; my mind can be a twisted place, but could I transpose this to the page?

I cobbled together a few drafts, took a deep breath and clicked 'Submit', waiting tentatively for any feedback. My girlfriend had already read the first draft. 'I feel a bit sick', was her feedback. After hearing the synopsis, my Mum refused to read it. I knew I must be on the right lines.

Then the feedback came. I was delighted to hear I'd hit the right chords. The consensus was that the ending lacked gravitas, so I delved deeper into the distorted depths of my imagination. That seemed to do the trick and the excellent community of Create50 began to give me the confidence that I could do this.

Having 'Ingrowing' selected for Twisted Vol. 2 is my first published fiction – an absolute honour and incredibly exciting. However, it's more than that too. Create50 has given me the confidence to operate outside my comfort zone; it's become a far less scary place.

Andrew Perry
https://www.andrewmarkperry.com