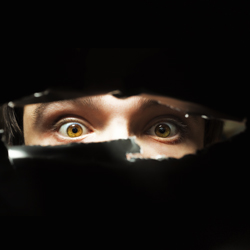 These are glory days for horror fans. The success of films like It, A Quiet Place and Hereditary have reinvigorated the genre.
TV shows like Stranger Things, and adaptations of some of horror's most treasured brands, including Bates Motel (Psycho), The Exorcist and The Haunting of Hill House, are perhaps evidence of a growing appetite for the genre. We've had four new novels from Stephen King in the last eighteen months and a new trilogy (The Three Births of Daoloth) from Ramsey Campbell that sees the old master back on top form.
And earlier this year, Valancourt books struck a deal with Quirk Books to re-issue the titles from the 70s and 80s horror boom that were reviewed in Grady Hendrix's superbly entertaining 'Paperbacks from Hell'.
Make no mistake; this is a good time to be a creator and consumer of horror fiction.

This is the second blog I've written for Twisted50, which might seem odd as I don't have stories in either volume. Everything I submitted was shortlisted but none of my stories survived the final round of cuts. It doesn't matter; I had a blast taking part. I made some wonderful friends and I benefited from generous feedback. And since my stories escaped Create50's crooked claws, one of them has been published, another will be published early in 2019 and another is currently shortlisted for something pretty special. The story that's been published generated some of the best feedback I've ever had. "Jesus this is terrifying." "Wow. This is brilliant, Chris." "God I want to know what happened." "This is beautiful and heartbreaking." "Oh wow Chris and that last line..." "That left me with goose bumps." "Good stuff. But if they make a film, I won't go..."

If people are saying this sort of thing about my little reject, just think what they're going to say about the stories that actually made it into Twisted50 volume 2. I'm excited.

I guess the question I'm most interested in is what happens next? The Twisted50 competitions must be a monstrous amount of work for Chris and the Create50 team. More than four hundred submissions at two thousand words apiece adds up to eight hundred thousand words. That's somewhere in the region of ten novels' worth of stories that need to be read, shortlisted, edited and cut down to the final fifty. For a small team, that must take a huge amount of time and effort.

And it has taken time. The world has changed beyond recognition since Twisted50 volume 2 opened its doors for submissions back in February 2016. The news is frequently more troubling than anything on my horror bookshelves. When the competition opened, I'd had four stories published. Earlier this year, I celebrated my fiftieth acceptance and my fourth competition win.

From the outside, it looks like we all got carried away with the success of the original Twisted50 (which is still performing relatively well on Amazon). The audio books, Little Sister and The Singularity were fantastic, and it's a credit to Chris and the team that they've been able to juggle so many commitments (not forgetting Impact50 and the London Screenwriters Festival), but with hindsight, I wonder if the Twisted50 brand would have been better served by focusing on producing volumes 2 and 3 etc.

Personally, I'd love to see a fresh new volume of Twisted50 tales published every year in time for Christmas. Maybe around Halloween. I'd like to see a shorter competition window for new submissions—say January—followed by a couple of months for revisions. Then it would be over to the Create50 team and their amazing volunteers to do the hard work of deciding the shortlist and winners. Wouldn't it be wonderful to see Twisted50 grow to be an internationally recognised brand of horror fiction, championed by readers and writers alike?

I guess I would say that. I'm a horror fan.

I may not have made the cut for Twisted50 but I've been lucky enough to see many of my own twisted tales published over the last few years. In 2017, Gettysburg won The Molotov Cocktail's Flash Rage competition, while And the World Roared Back and Absent Spouse Syndrome were published over at The Green Light. This year, Oymyakon and Lepidoptera were included in The Arcanist's 'Year One' anthology, with the latter being republished in Littsburgh to promote the anthology. And Boîte Fantôme has just taken first prize in The Arcanist's ghost story competition – it'll be published in time for Halloween.

These are glory days for horror fans and I can't wait to see what treats are served up in Twisted50 volume 2. Congratulations again to Chris and the team, and all the authors who made the final cut. Fingers crossed the journey doesn't end here.

***

Christopher Stanley's story 'Hive Mind' is due to be published in the Singularity50. Find out more about Christopher's published and prize-winning stories in his blog, When only words are left, and check out his previous Twisted50 blog, A Proud History of Horror Anthologies. Follow Christopher on Twitter @allthosestrings