You are invited to an unforgettable evening on December 18th to celebrate the double launch AND Awards for Twisted50 volume 2 and Singularity50 in the spooky Cinema Museum in London (close to Elephant and Castle).
Date: Tuesday December 18th at 7:00pm 
Time: Doors open 6:30 for 7:00, Awards start at 8pm
Tickets: £25
Dress code: Fabulous, Futuristic and / or gothic
Expectations: Set to high!
Venue: The Cinema Museum, The Master's House, 2 Dugard Way (off Renfrew Road), London SE11 4TH (located in Kennington, close to the Elephant and Castle). Map at foot of page.
Expect something... well, unexpected...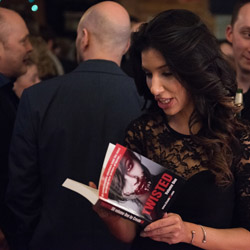 We don't just do parties, our launches are experiences that you will never forget. In attendance will be the writers of both books and you will be able to buy your copies and get it signed there and then.
There will be an awards ceremony to celebrate the best work, and plenty of opportunity for red carpet photos for everyone in attendance.
And just like the launch for Twisted50 volume 1, you can expect something, well, deliciously unexpected.
Watch the video from the Twisted50 vol 1 book launch and awards below.
Held at the old Lambeth Workhouse, which later became Charlie Chaplin's childhood home, and is now the rather eclectic and mysterious London Cinema Museum.
Tickets are limited to 120 guests and non-refundable. So don't dilly dally.
Chris Jones
www.Twisted50.com
www.Singularity50.com
Map for venue below...