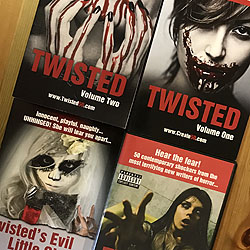 Want the ultimate terrifying Xmas Gift to give to friends and family? Give them the entire Twisted Family…
This delicious little package includes nearly 150 stories and over 50 audio readings with music.
It is also by its nature, a limited print run and offer with only ten packages available.
Twisted50 Entire Family
Want the ultimate terrifying Xmas Gift to give to friends and family? Give them the entire Twisted Family…
Available
Ships within 1-3 days (WHEN IN STOCK)