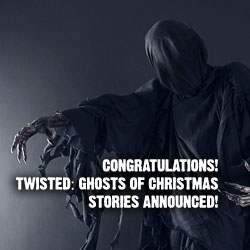 As ever, debate among the judges was heated, but we finally arrived at a list!

Please do leave a comment on this post, and if you are not on the list, keep going, it's an insane job to judge art. We may also sneak some bonus stories into the eBook too!

I will be in touch soon about when to buy copies of the book so that we can co-ordinate getting on the Amazon Best Seller list.

OK.. the tension mounts… So drum roll please… The successful writers and stories are…
Maxine Lennon and Persimmity Glue
Lawrence Morgan and Vincent Van Gogh's Ear
Josh Shevill and Antlers
Andrew Perry and The Gifts of Christmas Past
Kurt Fried and Today's Treat
Mark Walker and Isabella
Ricardo Bravo and Do You Believe in Santa?
Helen Bang and The Chorister
Suzanne Fox and He Moves in the Night
Chris Jeal and Revenge is a Dish Best Served with Stuffing
Emma Pullar and Awake
Toby Norways and A Dog is for Life, not just for Christmas
Sherice Griffiths and Jinx
Paul Shearer and Family Christmas
Fiona Faith Ross and Roasted
Jamie Shearing and Just for Christmas
Rose Banks and Needles
Tim Coleman and The Weeping Widow
John Suriano and ComicCon Christmas
Claire Rye and Oh! Christmas Tree
Suzie Grogan and Life at Christmas
Gerry Driver and Santa Sleighed
Aaron Nash and The E.D.P
Rachael Howard and The Spirit of Yule
Gordon Slack and No Heart
Congratulations again, if this is your first time, it never gets old. Your name is on the cover of a book and your words inside it.
What happens next? Contracts will be sent today and will need urgent attention. You will keep all the rights, we just need the right to publish the story in the book. I will also ask you if you can write a blog post to help engage the community - the post will go no this site. And again, we will co-ordinate when to buy books so we can hit the best sellers list.
Thank you also to Mark, Emma, Elinor, Lawrence and Savannah for working around the clock to make this happen.
OUTSTANDING! Publishing date of the 16th December now loking very certain.
Chris Jones
www.Twisted50.com
PS - Please do join the Facebook page too at https://www.facebook.com/Twisted50Book