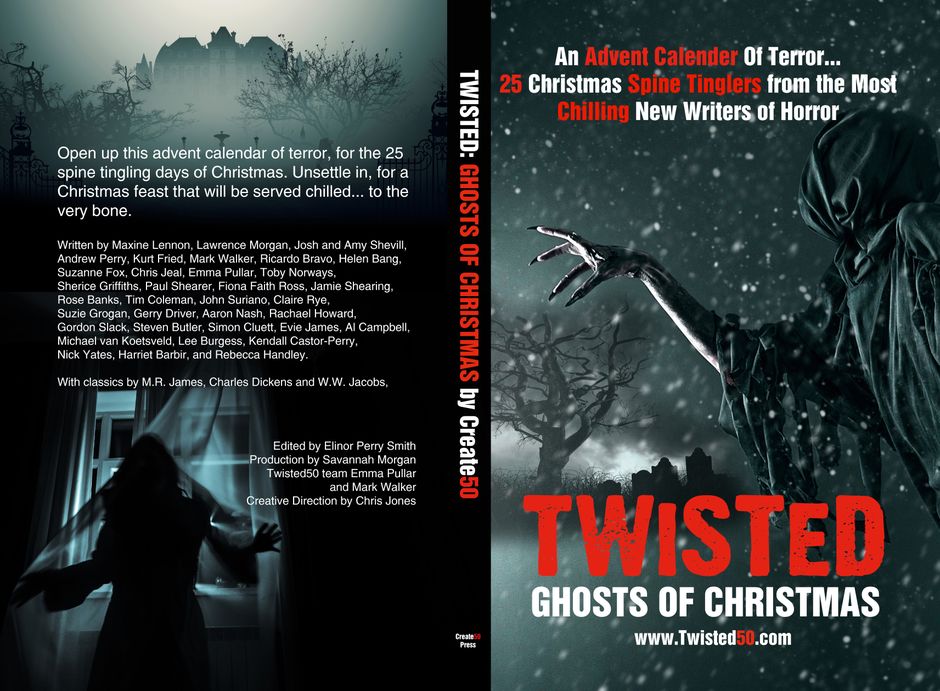 Twisted: Ghosts of Christmas Now Avaialable in Paperback and eBook! Help us hit the Amazon Best Seller List.

It feels like Groundhog Day, the horror movie!

No sooner has our Santa's Bedtime Book of Adventure Stories been published, but Twisted: Ghosts of Christmas is now available both as eBook and paperback… three days ahead of schedule!
Open up this advent calendar of terror, for the 25 spine tingling days of Christmas, each from a terrifying new voice in horror literature. Unsettle in for a Christmas feast that will always be served chilled... to the bone.

It will make an extraordinary gift for those you love... or maybe don't love (evil cackle)!

Now… how YOU can really help right now. This is the groundhog day bit...

If you want to buy it, can you please do that today? If we can cluster sales we can get ourselves on the Amazon Best Seller list which will help promotion. So timing is important.

**Better still, if you can buy and leave a review, that would be amazing.**

It takes a few days to get the book and reviews are vital, so if you do want to review ONLY AFTER BUYING then mail me and I will send you a PDF of Mobi file for the free Kindle reader for your phone or tablet. So you can review the book right away. Again ONLY after buying so you are a verified buyer on Amazon.

Getting it to actually see and read means you can leave an authentic review.

Please don't leave reviews saying things like 'I wrote a story so I am biased…' or 'I was asked to leave this review…' or 'This is the greatest book ever published (in other words, be authentically enthusiastic and not too salesy)'.

Be as lengthy as you like.

Of course please do also ask everyone you to buy it too, especially the people who you think would get a thrill to own this book. Send them a personal message and post on Social Media.

 
OK, here's the link to get on Amazon… http://mybook.to/TwistedXmas

And if you can do a second post on soclial media with a photo when your book does arrive, that would be AMAZING too!

THANK YOU THANK YOU THANK YOU!

Sorry for my super fast post but we have a lot on. This December we will have published two books at lightning speed, launched a whole new Santa Zoom calls business as well as prepped LondonSWF365 in February! We are somewhat determined to beat the Covid crisis that threatens us so greatly! All proceeds are going toward the survival of the London Screenwriters' Festival.

OK again, thank you in advance, much love and hugs in this time…

Chris Jones
http://mybook.to/TwistedXmas